Bambi Turns 100: Join the SinaiFree Film Society for a Provocative Discussion with a Special Guest
18 Oct @ 7:30 pm - 8:30 pm
Bambi Turns 100!
But What Is The Story Really About?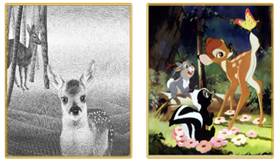 The year 2023 marks the one hundredth anniversary of the classic novel Bambi: A Life in the Woods, by the Austrian Jewish author and journalist Felix Salten. But what is Bambi really about? Is it simply the story of a deer growing up in the forest…or much more than that? And how does Walt Disney's famous 1942 film depart from the novel?
To explore these questions, the SinaiFree Film Society is delighted to host an online conversation with special guest Dr. Jack Zipes. In 2022, his masterful new translation – entitled The Original Bambi: The Story of a Life in the Forest – was published by Princeton University Press.
A more detailed program description is available here, including information on how to watch the film.
Please click here to register for this program and receive both the Zoom link and a 30% discount code to purchase the book online (courtesy of Princeton University Press), if you would like to read it. You might also check your local bookstore or library.
Note: We are sending this email well in advance so that you will have time to read the book, should you choose to do so.