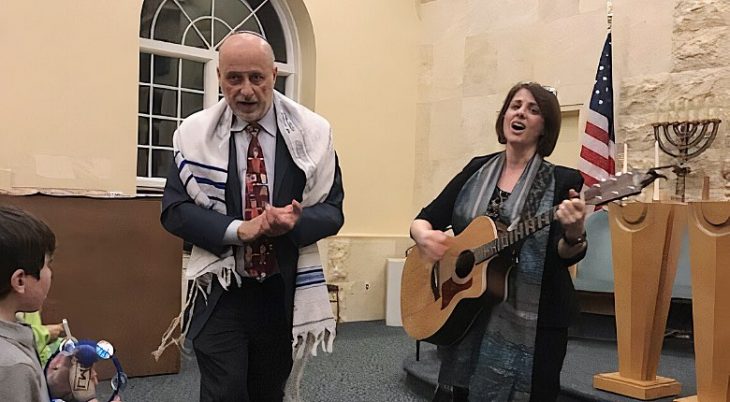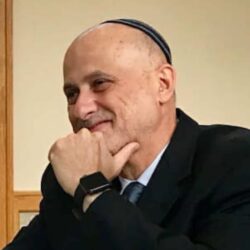 Rabbi Morris Barzilai ("Rabbi Mo") has spent over 25 years in Mount Vernon as a trusted spiritual leader nurturing a warm, welcoming congregation which congregants often describe as a second family. In his own words, the rabbi's goal is "to reach out to the diverse members of the community and to show them the beauty and meaning of Judaism. "I try to help individuals become more connected to Judaism and the Jewish people, with a special focus to reach out to those who, for whatever reason, feel marginally connected." He works closely with the Cantor and the lay leadership to create services that are spiritual, beautiful and engaging for all who attend.
Rabbi Mo has served as the spiritual leader of Sinai Free Synagogue since its inception in 1999 when, Free Synagogue of Westchester (where he was the Rabbi since 1994) and Sinai Temple, both in Mount Vernon, merged to form Sinai Free Synagogue. 
A trusted leader in the area, Rabbi Barzilai is extensively involved in a wide range of ecumenical and civic activities. He served as co-chair of The Bronxville, Eastchester, and Tuckahoe Interfaith Council and has also been active in the Community Service Associates, which runs a food pantry and other programs in Mount Vernon. He also serves on the Board of The Counseling Center in Bronxville. "I strive to teach Jewish values by touching people's lives, showing them that someone truly cares and that Judaism has much to offer."
In the Jewish Community, Rabbi Barzilai has served on the Executive Board of the Westchester Board of Rabbis and currently is a member of the Synergy Rabbinic Advisory Committee of the UJA Federation. He has been a member of the Reform movement's URJ-CCAR Commission on Outreach and Synagogue Membership. For thirteen years he served as Rabbinic faculty at Eisner Camp/Crane Lake in the Berkshires.
After his ordination from Hebrew Union College-Jewish Institute of Religion in 1989, he became an assistant/associate rabbi at Temple Beth-El of Great Neck. In 1994, he began his tenure as rabbi of Free Synagogue of Westchester, and the rabbi of the merged congregations of Sinai Temple and Free Synagogue of Westchester in 1999. In May of 2014, Rabbi Barzilai received an honorary degree from Hebrew Union College-Jewish Institute of Religious for twenty-five years of service to the Jewish community. A native of Chicago, Rabbi Barzilai has a degree in economics and mathematics from Washington University. He and his wife Lisa have three lovely children, Matti, Zari, and Avi.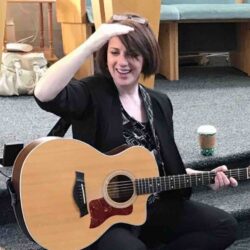 Amy Goldstein
Cantorial Soloist
Cantorial Soloist Amy Goldstein ("Cantor Amy") brought her powerful voice, infectious smile and energy to SFS in 2018 where she was immediately welcomed as a family member. Cantor Amy comes from an illustrious cantorial history as the daughter of Cantor Jacob Goldstein (a protégé of Moyshe Oysher) and the sister of two cantors serving congregations for the Cantors Assembly (Cantors Martin and Adam Goldstein) and sister of Rabbi Daniel Goldstein, Principal of the Yeshiva of Rochester, NY.
Cantor Amy has brought a broad range of talent to the synagogue including cantorial chanting, opera, oratorio, Broadway, Yiddish, folk, and contemporary music. Cantor Amy has received critical acclaim for her Naxos recordings for the Milken Archive of American Jewish Music and she is an Equity actress who gained entrée into the Broadway arena through her performance in Isaac Bashevis Singer's play, Gimpl Tam with the National Yiddish Theater and was honored in the 2019 Women's History Month for her contribution to Jewish Music.
Assistant Voice teacher for Metropolitan Opera baritone Mark Oswald, Cantor Amy has served on the voice faculties of Manhattan School of Music Pre-College, Concordia College, and taught voice to contestants for season ten of "America's Got Talent" and the 2016 Olympics Official Coca-Cola commercial. Cantor Amy maintains a private voice studio for SFS congregants and students across Westchester County.
Cantor Amy is a graduate of the Manhattan School of Music. Prior to joining SFS she served as the cantorial soloist at Temple Beth Jacob in Newburgh, NY and also served at Congregation Kol Ami of White Plains, Sutton Place Synagogue of NYC, Congregation Rodeph Sholom of NYC, Tree of Life Congregation of Pittsburgh, and in other prominent congregations across the United States.
Along with her musical capabilities, she is also a Certified Nursing Assistant and Patient Care Technician and served as visiting Jewish Chaplain Volunteer at Phelps Memorial Hospital. Cantor Amy lives in Scarsdale with sons Michael and Isaac.
Lee Schwartz
Cantor Emeritus
Cantor Emeritus Lee Schwartz served as Cantor at the former Free Synagogue of Westchester beginning in 1976 and as Co-Cantor at Sinai Free Synagogue until 2002. He trained at the Third Street Settlement School in New York and is fluent in Hebrew and Yiddish. In addition to his position as Cantor Emeritus at SFS, Cantor Schwartz has captivated audiences in community and professional musical theater, light opera, and concerts throughout the world with his operatic baritone.