SinaiFree Film Society Discussion - "Knowledge is the Beginning"
29 Nov @ 7:30 pm - 8:30 pm
The SinaiFree Film Society will discuss the documentary "Knowledge is the Beginning."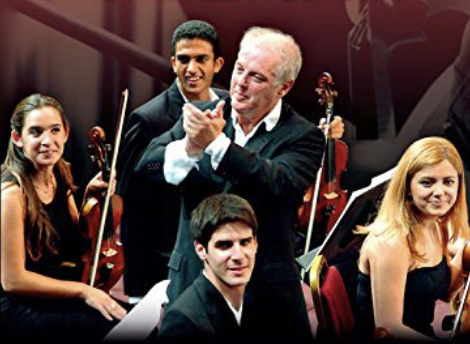 This film, released in 2005, follows The West-Eastern Divan Orchestra, which was created in 1999 by pianist and conductor Daniel Barenboim and the late Palestinian scholar Edward Said.  As described on their website, it started as "a workshop for young musicians to promote coexistence and intercultural dialogue. They named the orchestra and workshop after Johann Wolfgang von Goethe's collection of poems 'West-Eastern Divan', a central work for the development of the concept of world culture… The only political aspect that prevails in the work of the West-Eastern Divan Orchestra is the conviction that there is no military solution to the Arab-Israeli conflict, and that the destinies of Israelis and Palestinians are inextricably linked. Through its work and existence, the orchestra demonstrates that bridges can be built to encourage people to listen to the other's narrative. While music alone cannot resolve the Arab-Israeli conflict, it grants the individual the right and obligation to express herself or himself fully while listening to his or her neighbour."
Maestro Barenboim was the first person to hold Palestinian and Israeli citizenship simultaneously.  He published this statement on the Orchestra's website on October 16, nine days after the current war began.
THIS FILM CAN BE 
STREAMED FOR FREE ON YOU TUBE
. While not listed by its title, this link will take you to the film presented in its original form – in English – with German subtitles.
In addition, the film can be rented for $2.99 from Google Play, and $3.99 from Apple TV.