SFS Film Society Discussion – "The Cakemaker"
Wednesday, September 14 @7:30pm

-

8:30pm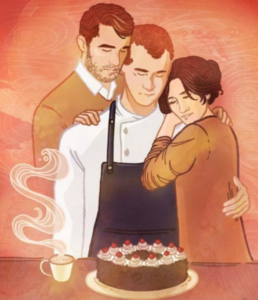 The SinaiFree Film Society will discuss the feature film "The Cakemaker."
Dear Members of our SFS Sacred Community,
At its simplest, this is the story of a German baker visiting the Israeli widow of his lover, who had no idea her husband was carrying on an offshore romance with another man. That unlikely plot line turns out to be an apt vehicle for exploring love, sexual fluidity, religion, the clash of cultures and pastry.
The film is calmly paced, deeply nuanced and eminently watchable. Its strength comes from its delicacy and restraint, which is remarkable considering that directorial debuts are often characterized by a transparent desire to make a big stylistic bang coming right out of the gate.
One of the film's themes is the often harsh and internecine friction between deeply observant Jews and those who reject the strictures of orthodoxy. Ultimately, however, it's a love story. Unconventional, to be sure, but still a love story.
Lee Gruenfeld, who was introduced to us by Rich Friedman, and who brought us this film, has graciously agreed to moderate the discussion. Lee claims that he doesn't know any more about movies than the rest of us but writes about them anyway.
Visit Movie Recommendations – Lee Gruenfeld.
The film can be streamed for free on Kanopy; and rented on Amazon, YouTube, Google Play and Vudu (all $2.99) and Apple TV ($3.99). There are 18 DVDs in the Westchester Library System.
Details
Date:

Wednesday, September 14

Time:

7:30pm-8:30pm

Event Categories: